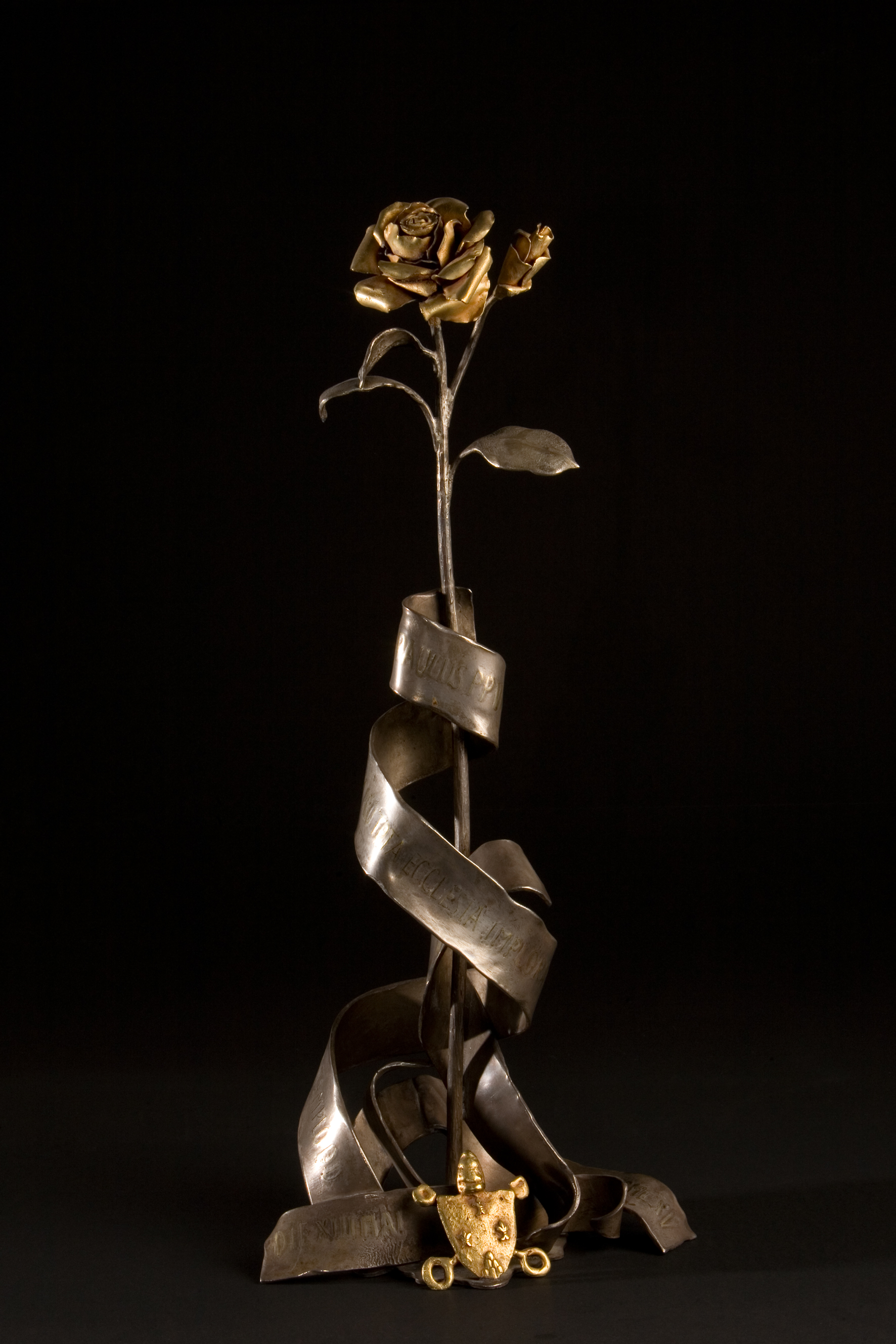 The Shrine of Fatima has received two Golden Roses, a distinction that the Popes grants to personalities or shrines, churches or cities, as a token of recognition for the noticeable services provided to the Church or for the good of society.
The tradition of this distinction is documented since the pontificate of Leo IX (1049-1054) but it is believed that it goes back to the end of the sixth century or beginning of the seventh century. The Golden Roses are usually blessed on the Laetare Sunday, at the end of Lent.
The First Golden Rose
The first Golden Rose of the Shrine of Fatima was granted by Pope Blessed Paul VI, on November 21st, 1964, at the end of the third session of the Vatican Council II, having been blessed by the Pope on March 28th, 1965.
It was delivered to the Shrine on May 13th, 1965, by cardinal Fernando Cento, legate of the Pope.
During the blessing ceremony, Blessed Paul VI recalled the significance of the Golden Roses that, in its "mystical meaning, represent the joy of the double Jerusalem – Triumphant Church and Militant Church – and the beautiful Flower of Jericho – the Immaculate Virgin -, who is also your Patroness and the joy and the crown of all Saints".
"[The Golden Rose] is the testimony of Our paternal affection for the noble Portuguese nation; it is the token of Our devotion to this distinguished Shrine, where an altar was erected to the Mother of God", underlined Paul VI.
The Pope also added that the rose is the symbol of penance, recalling the message of Our Lady to the Shepherds during the Apparitions from May to October 1917: "The Virgin of Fatima came to the world to remind the evangelic message of penance and prayer, so forgotten of the world; dear sons and daughters, you should now give the example regarding the fulfillment of this message".
The second golden rose
On May 12th, 2010, on a pilgrimage to Fatima, Pope Benedict XVI offered the second Golden Rose to the Shrine; it was the first time that a Pope had personally this gesture in Portugal.
Kneeled in front of the Statue of Our Lady of the Rosary of Fatima, in the Chapel of the Apparitions, the now Pope Emeritus, in prayer before the Virgin Mary offered the second Golden Rose "as a homage of gratitude" for the wonders that, through Her, God has worked in the hearts of the pilgrims.
"I am sure that the shepherd-children of Fatima, Blessed Francisco and Jacinta and the Servant of God Lucia of Jesus, are united with us at this hour of prayer and jubilation", he added.
The Shrine of Our Lady of Sameiro, in Braga, also received a Golden Rose on December 8th, 2004, conceded by Pope John Paul II on the occasion of the centennial of the Crowning of the statue of Our Lady. The golden Rose was delivered by cardinal Eugénio Sales, legate of the Pope.